Nebraska State Sen Bob Krist, joined by four Nebraska voters, engaged Domina Law to file their important election fairness lawsuit Federal court today.
The suit challenges a 2016 Nebraska law limited ballot access to non-partisan political candidates. The challenged law increases from 4,000 to 121,112, the number of signatures an Independent candidate needs to qualify for the ballot in a statewide Nebraska election. Republican and Democratic candidates do not have to obtain a single signature to run. A brand new political party needs fewer than 6,000!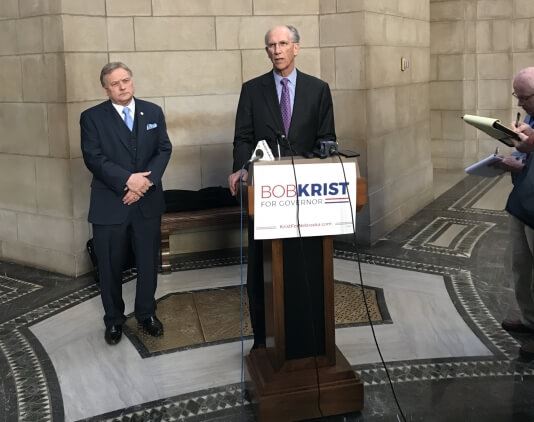 Attorney David Domina addresses the crowd.
Senator Krist called the law an attempt "to silence independent voices" in "a writ to system that is preventing good candidates from accessing the ballot." Krist, the 2nd longest serving member of the Nebraska a Unicameral Legislature, said he was "honored to work with David Domina" to get rid of this bad law.
Dave Domina, said, "the United States Supreme Court has been clear that an election Law restricting voting or ballot access must be narrowly tailored to meet a specific, compelling state interest. Nothing happened in Nebraska to reveal a newly discovered state interest requiring a 3100% increase in the number of signatures and Independent candidate needs. The law is designed to institutionalize the existing political parties, both of which meet with growing disfavor."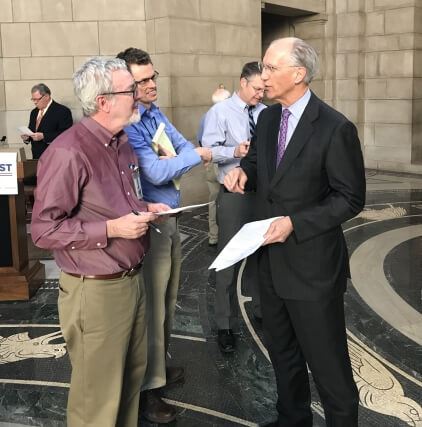 The 2016 law chills participation in the political process and ensures domination by a two-party system only putting up substantial roadblocks to those with different viewpoints. Krist and Domina contend this law must be declared unconstitutional and fair and open elections and ballot access must be protected.
Related Posts: