Who We Are: Domina Law Group
Our Philosophy
A firm rich with history, Domina Law Group was founded in 1975, and ever since our trial lawyers have been serving clients in Nebraska and throughout the country with multimillion-dollar case results in 11 states. Dedicated to representing the needs of clients throughout the country, we have built a reputation for ethical and aggressive legal representation, all while professionally expressing the invested interests of our clients. Today, our philosophy centers on how we can best help our clients both in and out of the courtroom. With this in mind, our immediate aim is to provide service that will not only ease the worries of our clients, but also offer satisfactory solutions that will uphold the tests of time and adversity.
David Domina interviewed in Attorney at Law Magazine.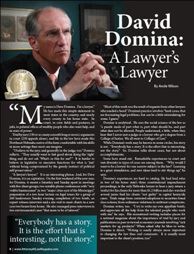 What We Do
At Domina Law Group, our mantra is "Trial Practice. Not Just Talk." So much so that the United States Patent and Trademark Office granted our law firm a service mark on this phrase.
The legal representation and personal support we provide to each and every one of the clients we represent stems from a genuine concern for the well-being of the individuals who have sought our counsel for help. In more than six decades of collective experience, we have come to respect the legal process as one that cannot simply be a "one size fits all" approach.
We refuse a cookie cutter approach to any of the many cases we take on. With a deep respect for the legal process, as well as the clients we represent, our case management and trial tactics are tailor-made to fit the needs of each individual we represent. Our customized approach fits the unique needs of our clients and their cases.
Our lawyers are led by David A. Domina, whose early successes include winning his first case of over $1,000,000 at the age of 25. The firm's foundation is built upon a tireless work ethic and a client first results-driven model. Ethical and aggressive in our approach, our trial lawyers effectively create customized solutions best suited for your needs. We first address your needs, then focusing on your wants. The legal approach we take will depend on the variables of your case and the ultimate goals you have in mind. Here, effective communication will be delivered to persons of every social, economic, political, moral, religious and professional persuasion.
Eliminate Generalizations
Practicing attorneys and well-established law firms often generalize their practice in a way that seemingly fits the needs of all. This can be deceiving. General strategies are usually ineffective in yielding successful results. Instead, a client's wants and needs need to be quantified and their expectations clearly understood. Only a true client-attorney connection will foster the right environment to breed success, which is why our philosophy so strongly focuses on the wants and needs of our clients.
Together, Domina Law will qualify your expectations with professional analysis the solutions available to you, as well as the likelihood of your success and the length of time it is expected to take, will help us reach the ultimate result together. Working as a team, the significance of your legal issues will not be overlooked, nor will they be dismissed or improperly handled. Built upon the remarkable experience of Mr. Domina himself, our practice has the depth and breadth you need to yield the results you desire.
You deserve to have your case heard and your rights protected – we are privileged to fight for the rights of our clients each day. Contact us today.