Who We Are: Domina Law Group
Our Philosophy
A firm rich with history, Domina Law Group was founded in 1975, and ever since our trial lawyers have been serving clients in Nebraska and throughout the country with multimillion-dollar case results in 11 states. Dedicated to representing the needs of clients throughout the country, we have built a reputation for ethical and aggressive legal representation, all while professionally expressing the invested interests of our clients. Today, our philosophy centers on how we can best help our clients both in and out of the courtroom. With this in mind, our immediate aim is to provide service that will not only ease the worries of our clients, but also offer satisfactory solutions that will uphold the tests of time and adversity.
David Domina interviewed in Attorney at Law Magazine.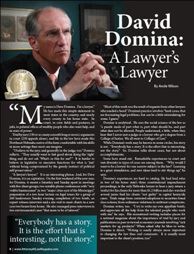 What We Do
At Domina Law Group, our mantra is "Trial Practice. Not Just Talk." So much so that the United States Patent and Trademark Office granted our law firm a service mark on this phrase.
The legal representation and personal support we provide to each and every one of the clients we represent stems from a genuine concern for the well-being of the individuals who have sought our counsel for help. In more than six decades of collective experience, we have come to respect the legal process as one that cannot simply be a "one size fits all" approach.
We refuse a cookie cutter approach to any of the many cases we take on. With a deep respect for the legal process, as well as the clients we represent, our case management and trial tactics are tailor-made to fit the needs of each individual we represent. Our customized approach fits the unique needs of our clients and their cases.
Our lawyers are led by David A. Domina, whose early successes include winning his first case of over $1,000,000 at the age of 25. The firm's foundation is built upon a tireless work ethic and a client first results-driven model. Ethical and aggressive in our approach, our trial lawyers effectively create customized solutions best suited for your needs. We first address your needs, then focusing on your wants. The legal approach we take will depend on the variables of your case and the ultimate goals you have in mind. Here, effective communication will be delivered to persons of every social, economic, political, moral, religious and professional persuasion.
10 Reasons To Have Domina Law Group On Your Side
What we do at our firm is different from anything you will see at other law offices. Uninterested in applying a blanket approach to the cases we handle, we instead narrow in on the intricate details of a case. This allows us the best opportunity to find a unique approach that can be used to better your chances of obtaining a positive verdict at trial and increase settlement leverage. Under our representation, a compelling story will be built and told on your behalf, enhanced by the assertive skills and customized approach that we can design for your case.
When you hire our attorneys, our services include:
We Bring Leverage - We don't talk about trial at Domina Law Group pc llo; we try cases. This means we have the leverage of an absolutely unmatched and unmatchable resume of real experience, unique and nationally known success, and performance. Your opponent will know, in an instant, you are serious if we are your lawyers!
Practical Experience; Real Results - Unfortunately, associations of trial lawyers have no admission criteria. Anybody can join and call themselves trial lawyers. But not at our law firm! We try cases. And, we have more than 450 verdicts and more than 260 appeals to prove it! This is the important exposed part of the iceberg of our experience. Hundreds of bench trials, thousands of in court hearings, and legal briefs… all appear as part of our resume of credentials. Our clients range from the poorest and most oppressed to the people of means with real courtroom needs.
You Pay Only for Results - Domina Law Group pc llo does not charge by the hour for our work. We share risk in contingent and special terms fee arrangements. If contingent fees don't work, we bill based on the subjective value of what we contribute…a sum we discuss and agree upon with our clients as we go. We intend to offer each client a unique and specific service, not a commodity service. "We are professionals selling unique case-by-case work; we are not selling No. 2 Yellow Corn!" David Domina often reminds firm personnel and clients of the firm's differences from others with these words. Domina Law Group pc llo is not in the commodity legal work business. Nearly all other lawyers are!
We Handle the Hassle - Few things are more disconcerting than dealing with the paperwork of a severe injury, a death, or a business scam that victimizes an innocent person. Domina Law Group pc llo handles these problems. We take them over and get them resolved quickly. Our staff, approximately five persons per lawyer, is trained to do so aggressively.
Our Reputation Works for You - Recently, a former employee of a large law firm with multiple locations across the country called to ask for Domina Law Group pc llo's representation against his former employer. "During my years with the firm, I observed that the only law firm they ever encountered and worried about was yours. You terrified them!" These words summarize the reputation we strive to build. We are uncompromising on the law, devoted to you as our client, and we will not become part of a system of professionals familiar with one another who sacrifice clients or principles for relationships with one another. Our reputation is toughness and fairness; we are not "good ole boys."
We Take Nothing For Granted - We know the facts rule the outcome in court. Learning to dig out the facts and matching them to the law's proof requirements is hard work. We know how to do it. And we take nothing for granted until it is done!
We Have Proven Our Analytical Judgment - If your case has a flaw, we will tell you as soon as we learn of it…even if this means telling you that the flaw is in you or how you present yourself. We have proven that our ability to teach clients how to present themselves, find fresh, strong witnesses, connect facts to human experience, are all truly unique analytical skills. Certainly, we make mistakes. And we lose. But we never give up; we always give 100% effort, and we are willing to risk losing; there is no other way to win!
We Live Up To Expectations - Our experience, reputation and history in court carry a price: the expectations for our work are always very high. We know we bear this burden of high expectations. So, "every day is a final exam;" this is the Firm's philosophy for our professional work. We live up to expectations and extend our reputation…every day. We make the courthouse home…. No matter how far it might be from our office. We practice where needed and conduct ourselves with absolute professionalism no matter where we are asked to work.
We Settle Cases Only When Doing So Serves You - We love trial; it is our preferred method to resolve matters. Making this known sometimes leads adversaries to make generous settlement offers. When you decide, after being fully informed, that you want to settle outside court, we help you do so. We handle large and small cases…each with equal zeal. We will try yours unless you choose otherwise.
We Get Results - We have an unmatched record... And we mean it. We challenge any law firm to match our billion and million dollar verdicts, our homicide acquittals, our trial volume, our appeals volume, and the scope of our work in court. We may be located in the center of the country in Nebraska, but we have record verdicts in Alabama, New Mexico, Arizona, Michigan, and Nebraska, and we have huge wins in New York, Minnesota, South Dakota, Connecticut, California, and the District of Columbia.
Eliminate Generalizations
Practicing attorneys and well-established law firms often generalize their practice in a way that seemingly fits the needs of all. This can be deceiving. General strategies are usually ineffective in yielding successful results. Instead, a client's wants and needs need to be quantified and their expectations clearly understood. Only a true client-attorney connection will foster the right environment to breed success, which is why our philosophy so strongly focuses on the wants and needs of our clients.
Together, Domina Law will qualify your expectations with professional analysis the solutions available to you, as well as the likelihood of your success and the length of time it is expected to take, will help us reach the ultimate result together. Working as a team, the significance of your legal issues will not be overlooked, nor will they be dismissed or improperly handled. Built upon the remarkable experience of Mr. Domina himself, our practice has the depth and breadth you need to yield the results you desire.
You deserve to have your case heard and your rights protected – we are privileged to fight for the rights of our clients each day. Contact us today.