The 71st Annual National Farm Safety and Health Week is Sept. 20-26, 2015.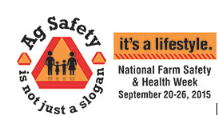 National Farm Safety and Health Week is an annual promotion of the National Safety Council. Farm Safety Week has been proclaimed by every U.S. President since Franklin D. Roosevelt started the emphasis in 1944.
Agriculture: It's Serious and Dangerous Business.
Agriculture has long been considered one of the Nation's most dangerous industries. Big machines, used on varied terrain over long hours by tired operators all contribute to risks. Data from the U.S. Department of Labor discloses that in 2013 farming accounted for 500 fatalities. This is 23.2 deaths per 100,000 workers.
Tractor turnover accidents are the leading cause of death for farmers and farm workers. Planning, thinking, and conscious awareness by the operator are all essential. Knowing the tractor and how it works are vital to safety for the operator and those around the power unit. A well installed and maintained rollover protective structure (ROPS) is important for each tractor .
Fatigue is a major cause of farm accidents. Producers rush to get the crop out and the autumn farming done before winter. This can be challenging every year, and especially if the harvest season is late. There is no substitute for adequate sleep and a sufficient number of breaks during the harvest season. No time is saved by finishing one day faster, but losing a life, or limb.
Another danger is moving equipment or grain on public roads and highways. The sun position in the Fall can contribute to vehicular collisions in the Spring and Fall. So, Farmers and Drivers: slow down, pay attention, and stay off the cell phones while driving.
Here are other steps to be taken
Basic safety walkthrough & personnel instruction
Nothing prevents harm like teaching safety! Go over safety procedures with personnel
Check and repair slip, trip and fall hazards, like ladders, platforms, handrails & steps
Get rid of protruding objects
Clean up debris, weeds or other obstructions or catch points
Tighten and install safety covers and access panels on everything
Install & refresh warning signs and safety locks
Have written safety procedures for appropriate hazards
Have first aid kits and fire extinguishers in place & refreshed
Harvest season means more farm vehicles on roadways.To help ensure your safety:
Display Slow Moving Vehicle (SMV) emblems on all off-road vehicles
Use flashers. The Am Soc of Ag Engineers (ASAE) recommends two flashing amber lights, at least 42 inches high, in the front and rear.
Inspect hitches to verify they are sturdy and properly mounted before towing equipment or using wagons. Always use safety chains, if equipped.
Keep all shields and warning decals in place and in good condition
Check fields for areas of possible erosion or washouts. Alert operators
Refuel only cooled equipment. Refueling accidents are a major cause of combine fires
Maintain a suitable fire extinguisher on combines & other locations
Grease and complete routine maintenance in the morning when fully focused
Drive the combine only when fully alert. Schedule breaks
Move from field to field during daylight
Keep your distance from other vehicles and machines
Stay away from moving parts
Clean debris from the machine as often as possible and only when it is OFF.
Evaluate field loss frequently. Keep corn kernel loss to 1% or less
Drive at an efficient, reasonable speed
Electrical boxes & connections must be weatherproof, water-tight &properly grounded
Repair immediately all open conduit or exposed wiring
Make sure all panels and switches are operational
Inspect overhead wiring & alert personnel to whereabouts
Do not use any equipment with missing or defective shields or protective parts
Make sure augers are in good working condition, including auger flighting
Inspect & replace damages bucket elevator's cups, & other components
Make sure your bucket elevator is functioning properly and that the belt runs straight and true within the casing.
Bin unloading and bin aeration floor
STAY OUT Of Bins Containing Grain
Remove dust and debris.
Check your bin roof vents to determine their condition. Rusted or damaged vents should be replaced and bird nests removed. Also check areas around the vents for potential places where moisture could enter the bin.
Make sure floor gates and sumps are clear of any debris, and open easily.
Noise Safety
Limit Noise Exposure by Noise Levels & Time of Exposure
Both volume, and volume over time, cause injuries
Sources: