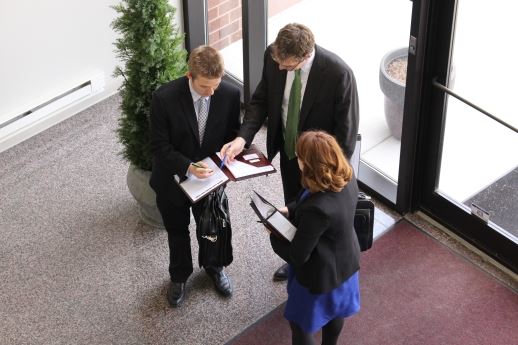 Were you injured as a result of negligence? Are you preparing to file a claim? Whatever the case, it is important to retain a skilled Nebraska trial lawyer. At Domina Law Group, we are well aware of how complex this situation can be, but with more than 450 jury trials under our belt, we are confident in our ability to focus on the trial process.
There are a number of attorneys out there who would be more willing to take a quick settlement because they are intimidated by the thought of going to trial. This is not the case with Domina Law Group. You will have a team on your side that has taken hundreds of trials to verdict and have been successful at doing so. Our mantra is "Trial Practice. Not Just Talk." This is evident in everything we do. While we are open to settlements if it means you can receive the maximum compensation available, we are quick to take the case to trial if the offer is not favorable to our clients.
We are confident in the trial forum. We truly care about our clients' well-being and by having this extensive trial experience, we are able to provide the highest quality representation possible.
Our team understands the trial process and the type of tactics the defense may use in order to pay out as little as possible to injury victims. We challenge the defense team in order to help prove to a jury and judge that our clients were wronged and should be granted compensation to cover the accident-related expenses.
Because we have handled so many cases in a trial setting, we know when push forward where other lawyers may freeze. You can trust that from start to finish, our firm prepares for trial so you are never caught off guard.
If you have sustained an injury as a result of an accident, call Domina Law Group to discuss your case with our Nebraska trial attorneys in a consultation.