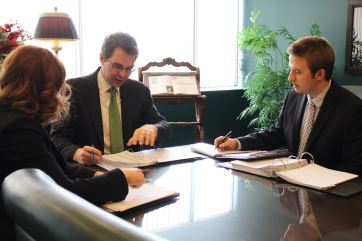 At Domina Law Group, we are always thankful to have the opportunity to represent our clients. The holidays are a time for individuals to spend quality moments with their loved ones and leave their cares behind. If they are harmed or are going through legal issues, this could be a difficult experience. The goal of our Nebraska trial lawyers is to give our clients something to celebrate this Thanksgiving.
We are extremely thankful to have the opportunity to represent our clients in a wide range of legal areas. It is extremely important to us to ensure our clients know that they have someone on their side. We are dedicated to protecting their rights through any situation. This is what we provide every single time we take on a case; a helping hand and tenacious representation designed on your individual needs and goals.
From the moment we first opened our doors, we dedicated ourselves to giving our clients a voice in personal injury, agricultural law, and other types of cases. We have handled more than 450 jury trials to verdict, an accomplishment that would not have been possible without our wonderful clients. While the circumstances that lead you to our firm may be unfortunate, our goal is to look towards the long term and right the wrongs done to you.
Thank you for allowing us to represent you since 1982 and provide the trial experience you have needed to move forward without the worry of legal trouble. It is our honor and we hope to represent clients who need us for many more years to come.
If you need legal help, contact Domina Law Group. We are completely dedicated to our clients and are never afraid of trial.