The Nebraska Liquor Board unanimously voted to deny the liquor licenses of four stores in Whiteclay, NE on April 19.
Attorney David Domina gave his closing arguments earlier this week, stating that,
"Whiteclay is the most deeply infected boil on the face of Nebraska. It needs to be lanced and drained… The time has come for the liquor commission to rid Nebraska of the pernicious Whiteclay liquor licenses."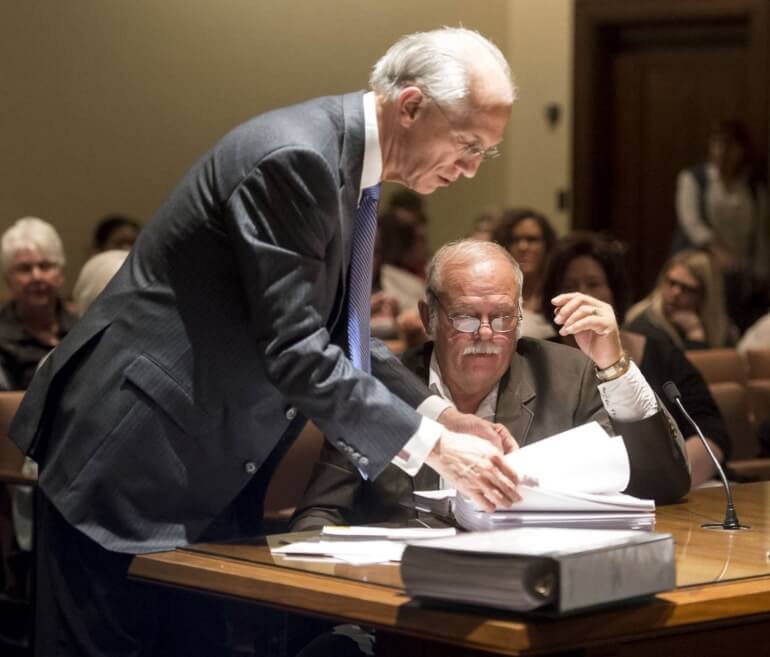 Attorney David Domina sorts through his files at the Whiteclay hearing. Photo by Kristin Streff, Journal Star.
A key issue brought up during the case was the lack of law enforcement in the unincorporated village of Whiteclay. Following the announcement of their decision, the chairman of the liquor board Bob Batt said that,
"We were appalled by some of the attitudes of Sheridan County officials that they don't have a problem there. We found that to be bogus."
The four liquor store's current liquor licenses are set to expire on April 30, though a court appeal will suspend their closure by several months. The attorney for the four stores stated after the announcement that he is already working on an appeal.
Eight people live in the village, but the stores sell an estimated $3.5 million worth of beer every year. The majority of these sales are to Native Americans who live on the Oglala Sioux Reservation at Pine Ridge which is located just across state lines, and helps fuel the alcoholism that has claimed countless lives over the years.
Immediately after the announcement was made, Frank LaMere, a longtime Winnebago activist and Bryan Brewer, the Former Oglala Lakota President embraced each other with tears of joy.
"We've never come this far," Brewer said. "I'm just so happy for our people."
Related Posts: