Attorney Brian Jorde and Domina Law Group represent family of Alfred Jackson, who died under suspicious circumstances in August 2019. Alfred is the brother of the late Musician and Icon Prince, and his recent death and contested Will are raising new questions in the increasingly complicated legal battle to settle the legendary Pop Star's estate.
As reported in a recent article from the Minneapolis Star Tribune, Jorde's clients are challenging an alleged Will leaving the entirety of Alfred Jackson's Estate to a man named Raffles Van Exel, of West Hollywood, CA, rather than any of Alfred's own family. Jorde is also challenging an alleged multi-million dollar sale of Alfred's 1/6th interest in his brother's estate – a share with an estimated value between $17M to $50M.
On Friday February 21, 2020, Jorde was successful in arguing the Personal Representative of Alfred's Estate should be removed so a neutral party can be appointed to investigate the alleged sale of Alfred's interests. You can read the full article detailing the latest details of the case below: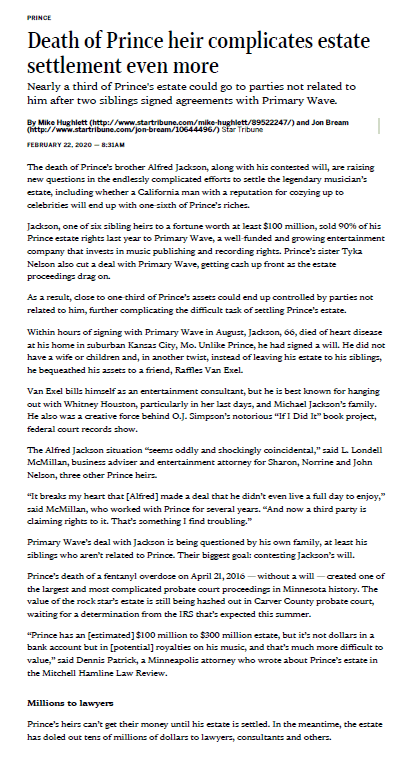 Brian E. Jordeis Managing Lawyer at Domina Law Group, where he has won and settled numerous multi-million dollar cases, as well as law-changing appeals relating to clients' legal and Constitutional challenges. Jorde and the Domina Law legal team have extensive experience handling high-stakes and high-profile cases, involving those involving will and trust contests.