Democratic gubernatorial candidate Bob Krist filed his response to fellow Democrat Tyler Davis' lawsuit challenging the former Republican's placement on the May 15 ballot.
Davis is challenging Krist's appearance based on a Nebraska law passed in 2016 requiring candidates to change their party before the first Friday in December the year before an election. Krist first changed his party affiliation from Republican to nonpartisan in September of 2017 before registering as a Democrat in February of this year.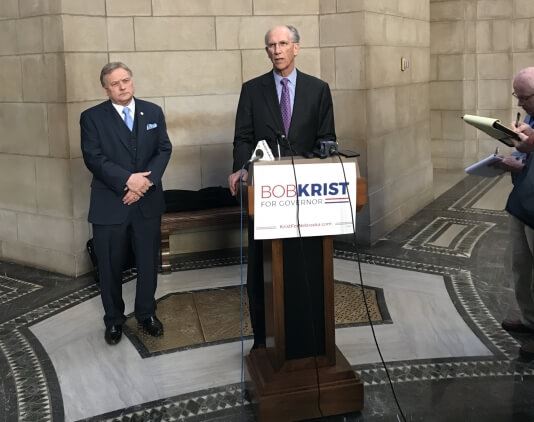 Attorney David Domina addresses the crowd.
Davis' appeal of Krist's placement on the ballot was rejected by Secretary of State John Gale. He ruled that changing parties to Democrat form nonpartisan did not constitute a party change. The Nebraska Supreme Court will hear Davis' appeal of this rejection.
Attorney David Domina, who represents Bob Krist in his case to ensure his spot on the ballot, reiterated Krist's argument that he did not change parties.
"At all times after September 13, 2017, and until February 12, 2018, Mr. Krist was a registered voter without any political party affiliation," Domina wrote in the motion.
Related Posts: