Bovine Viral Diarrhea Virus (BVD)
What is BVD in Cows?
Bovine Viral Diarrhea Virus is a widespread infectious disease among dairy cows and cattle generally challenging milk production and animal growth. BVD costs producers around $2 billion annually and therefore, BVD is one of the most expensive viral diseases in cattle.

BVD inhibits conception, causes birth defects and abortions, and weakens the cow's immune system, causing the animal to be more susceptible to other infections, such as pneumonia. It is estimated that 80 percent of cattle in the U.S. have been exposed to BVD and 70 to 90 percent go undetected, due to lack of visible symptoms.
How is BVD Transmitted?
BVD can be transmitted by direct contact with clinically sick or carrier animals, or indirectly, by contaminated feed. A pregnant cow with BVD can also transfer the disease to the fetus. This newborn calf may become persistently infected (PI), which means the virus will last the entire length of the animal's life. The decrease in growth rate and milk production caused by BVD PI can be devastating to the producer (see chart).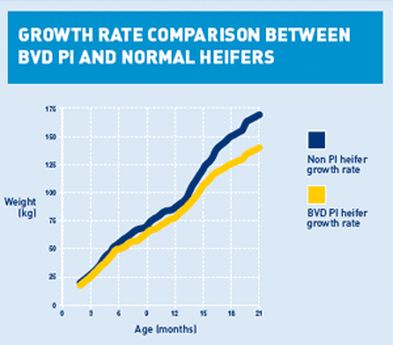 ​
Two Types of BVD
The two basic types of BVD, Type I and Type II, are similar in genetic make-up and can both develop in the same animal. Both types can alter their genetic composition during multiplication, which is why BVD has such a variety of symptoms. Some physical signs of BVD are fever, nasal discharge, diarrhea, and the inability to move about naturally.
Treatment Options
Preventative treatment for BVD does exist in a vaccine. The vaccine has been found to be most effective when administered to calves 6 to 10 months of age. Some producers choose not to vaccinate the herd because, under certain unknown circumstances, the living strand injected has been found to take over and accelerate the clinical disease. Also, the fatality rate of BVD per herd is very low, making it difficult for the owner to justify the cost.
Potential Causes of BVD
Because animal feed or ration is at the beginning of the food safety chain in the "farm-to-fork" model, having a reliable and safe source from where you obtain your feed is critical. Contaminated or bad feed is often the cause of BVD, in which case someone else may be ultimately responsible for the producers' resultant production loss and/or food safety issues.

If you have growth or production loss your feed may be the culprit. Feed may become compromised in many ways- mosquitoes, airborne bacteria, worms, animal feces, dirty equipment, mold, and other causes. If you think your operation may be a victim of bad feed contact our firm.
Our Experience
Our firm has unparalleled experience with agricultural investigations. We have helped many farmers and ranchers recover from production losses caused by bad feed and other acts of negligence. Domina Law Group knows how to find the experts who can determine and pinpoint the cause of production lost. Although contaminated feed is the most common cause of herd infection it is not the easiest to prove.
Domina Law Group has years of experience across all types of agricultural cases including bad feed cases and has recovered millions of dollars for our clients. Contact Domina Law Group today.