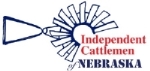 Speaking at the invitation of the Independent Cattlemen of Nebraska, David Domina and Brian Jorde assembled with cattle producers at North Platte, Nebraska, on October 24. Their lively conversation described the history of the federal regulation of agricultural markets and efforts to assure producers have a fair marketplace at which to sell their products.
Jorde compared market circumstances a century ago with those today, striking parallels between the elections of 1908 and 2008, and the following regulatory activities.
Domina discussed regulations proposed for enactment by the Grain Inspection Packers and Stockyards Administration (GIPSA), an agency of the U.S. Department of Agriculture. The rules strive to assure:
Meat processors keep records of all transactions for the acquisition of poultry, swine, or cattle.
No preferences may be given based on size or any other circumstances, except quality.
No secret arrangements can be made to assist producers. Transactions must occur openly and above board.
Packers cannot trade with one another except with advance notice to regulators and under special circumstances.
Packers cannot slaughter their own livestock, with limited exceptions.
Domina noted that Jorde's description of the history makes clear the fact these GIPSA regulations are designed to reinvigorate the law not to change it.
October, 2010