I. Our Services
Domina Law Group pc llo is a group of focused, efficient, skilled trial lawyers. We handle complex cases. Much of our work is related to agriculture. We know farming, ranching, farm tractors, combines, irrigation, cattle, dairying, swine, and ag lending. Our work has ranged from complex products liability cases involving wrongful death and injuries on the farm, to riparian water rights affecting farm land. We have gone to court and been successful in antitrust, product liability, unfair lending, and related cases. Our clients include, for example, widows, widowers, persons who suffered limb losses, amputations, and other injuries or death from farm accidents, or farming related matters. We like agriculture and we love handling cases involving livestock, crops, producers and persons who need help because of farming or ranching related events.
We Know of Injuries to Children as Well as Adults.
We know that during a 6 + year period monitored by the National Ag Safety Database, 105 children were admitted to the hospital as the result of trauma that occurred on farms. Animal related injuries accounted for 42 (40%), tractor or wagon accidents for 28 (26%), and other farm machinery for 21 (20%) of the cases. Injury score severity scorings disclosed that in more than 10% of the cases, the injury was fatal or life threatening to the child. The most common injuries were orthopedic, neurologic, thoracoabdominal, and maxillofacial. The most severe included death and quadriplegia.
II. Our Experience
At Domina Law Group pc llo, we know that agriculture is the second most dangerous industry in the United States. Weather conditions, long working hours, and complex heavy equipment can combine to cause serious injury or death to farm workers. Most farming injuries are caused by equipment; too often, they result from equipment design flaws or safety deficiencies. We have proven fault in cases involving rollovers, power takeoff and other rotating shafts, falls from machinery and falling objects, chemicals injuries, and many others. We know and understand farming. Our practice, and our related experiences, prove it. Among the related interests of our lawyers are farm ownership, farm operations, ag banking, cattle feeding, and even county seat farm town grocery operations. At least one of our lawyers has investments in each of these areas. We stay attuned to farm matters!
III. Hazards For Persons Using Farm, Ranch or Horticulture Equipment
People working on farms, with farm tractors, lawn tractors, combines, sprayers, and equipment are exposed to occupations risks. Among the most common are:
Injuries and Accidents Involving Farm Tractors, Rollovers, and Farm Vehicles

Injuries and Accidents Involving Farm Machinery

Rotating Shaft and Power Take Off Injuries

Entrapment Injuries, in Hay or Grain Grinders & Mixers, Combines, and Harvesters

Falls from Machinery, Buildings or other Heights

Herbicide, Pesticide, or other Chemical Burns & Injuries

Chemical or Toxic Substance Spills

Vibration, Vibrating Tool, and Noise Injuries and Dust Injuries or Dust Explosions

Injuries from Work with Livestock

Injuries and Accidents Involving Farm Tractors, Rollovers, and Farm Vehicles
Farm Tractors, fork-lifts, front end loaders, four-wheelers, and all terrain vehicles (ATVs) account for nearly 1/3rd of farm injuries or deaths. trucks, quad bikes, combine harvesters and 4x4 vehicles are all commonly seen in use on farms and can lead to accidents. Crushing, twisting, dismemberment and death injuries occur. Domina Law Group pc llo has handled many such cases involving farm tractors, self-propelled equipment, and rollovers.
The most common types of fatal tractor accidents involved tractor rollover or running over or crushing the tractor operator. Other causes of fatal tractor accidents include road collisions, contact with low-lying structures (e.g., wires, various overhangs), and becoming entanglement with the power take-off (PTO).
Many fatal tractor accidents can be avoided with the proper rollover protective structures. Important safety features include seatbelts, shields, guards, and safety warnings.
Injuries Involving Farm Machinery; Rotating Shaft & Power Take Off Injuries
Our work for farmers includes success in dealing with tragic death and dismemberment cases involving power takeoffs (PTO injuries), entanglements, elevators, augers, irrigation systems, grain bins, suffocation, dust explosions and similar tragic events.
Rotating shafts on machinery are dangerous. Even slow moving or smooth shafts can cause serious injury or death. Even if located in locked mechanical rooms or pump stations, employees are exposed to the hazards of falling/stumbling into them or having clothing caught in them. Small motors can remove fingers and grab clothing, causing serious injuries. Any motor over 8 hp can haul a person through a very small opening, with horrible results.
In municipalities, motor driven shafts are commonly found in water and wastewater treatment plants, pumping stations and in building mechanical spaces. It is too common to find that guards removed for equipment maintenance have not been replaced. Guarding of machine nips, points of operation, and power transmission equipment (such as shafts) is regulated by OSHA/Maine 29 CFR 1910 Subpart O. Some important considerations are:
The guard must cover the whole shaft, so an open hand cannot slide in and touch the shaft.

The guard must be securely fastened in place with screws, bolts, or special clips.
Injuries and Illnesses caused by Chemicals and other Hazardous Substances
There are many different pesticides and dangerous chemicals used on farms which can cause serious illnesses if not handled correctly. Once again it is necessary to train staff fully and to provide the relevant Personal Protective Equipment (PPE).

There is a risk of inhalation of harmful fumes and industrial asthma can arise. There is also a risk of dermatitis from exposure to the contents and contaminants stored in such facilities.
Missing Warnings on Equipment – Guards & Shields
Most machines come with, or should come with some guards or shields. Generally, these carry along a manufacturer's duty to warn and communicate a safety risk is required for most removable equipment guards. ANSI Z535.4 Warning Labels are supplied in English as standard. Custom translated Warning Labels are available by request for multi-lingual requirements. Labels are a severe duty type featuring a 2 mil polyester base material with a 5 mil clear lamination and modified acrylic adhesive backing. Labels can also be drilled and mechanically fastened using stainless steel pop rivets. All labels should be suitable for -40°C to 149°C (-40°F to 300°F) temperatures, and should be chemical, abrasion, and fade resistant. These are examples of a warning: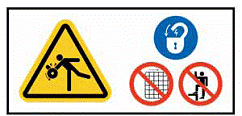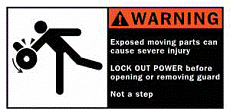 Dangerous Livestock & E Coli
Working with farm animals can be hazardous to adults. Children are even more likely to be hurt. But there are more dangers. At Domina Law Group pc llo, we know of recent research at Kansas State University found that cattle fed distiller's grain have an increased prevalence of E. coli 0157 in their hindgut. This particular type of E. coli is present in healthy cattle but poses a health risk to humans, who can acquire it through undercooked meat, raw dairy products and produce contaminated with cattle manure.
September, 2009
David A. Domina
Domina Law Group pc llo is a firm of trial lawyers. We specialize in complex litigation on a national basis. Our lawyers are ethical, aggressive, and committed to providing spirit and vitality to the judicial system and our client's legal rights.