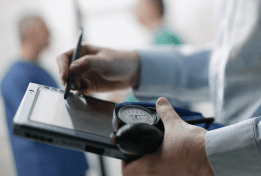 At Domina Law Group, our team of Nebraska medical malpractice lawyers know that there are times when the medical professionals we are expected to trust make mistakes. Unfortunately, medical malpractice is a serious issue and can result in serious harm. These types of cases are often difficult and require extensive work, but with skilled and dedicated attorneys on your side, you may be able to seek the compensation you need. Our firm wants you to be prepared every step of the way, so we have provided some of the steps involved in a medical malpractice claim. This can help you understand what is going to happen next.
Investigation
In order to have a chance at success in a medical malpractice case, it needs to be shown that the doctor, nurse, or other medical professional acted in negligence. To prove this, our firm compiles various evidence from investigation. We take the time to get to know the damages you sustained and work to determine the exact cause. If we can show that your doctor acted in negligence and made an error, it can go a long way towards helping your case.
Filing the Lawsuit
After we have determined if medical negligence was the cause for your injuries, we can file a lawsuit against the negligent party or parties. This is the time that we determine who is liable and if the hospital or medical facility itself holds any responsibility. In some situations, hospitals may fail to look into a doctor's history to determine if he or she is fully qualified to provide care. This could make them responsible for damages caused.
Building a Case
We go through the motions of building the case for you. This means we get all evidence necessary such as written documents, witnesses, and expert witnesses. Expert witnesses can be used to help show that the doctor made a mistake or another medical professional made an error in their care of you.
Negotiations
Before we even move forward, we look to negotiate with the responsible party and come up with a suitable settlement. We try to help our clients avoid the hassle of court dates and the stress of trial. If a just settlement is offered, we can accept it on your behalf. If a settlement is denied, we move on to the next step of the process.
Trial
Finally, if we are unable to successfully negotiate a settlement, we go to trial with the negligent party. This is when we can present the evidence we have to a judge and jury, who will then make the final decision regarding the case. Our firm is experienced in trial matters and we know how to represent our clients' best interests.
If you or someone you love has been the victim of medical malpractice, call our firm today.