With all the hype in Nebraska surrounding Syngenta claims, it is important for farmers and producers to know their rights and what to do.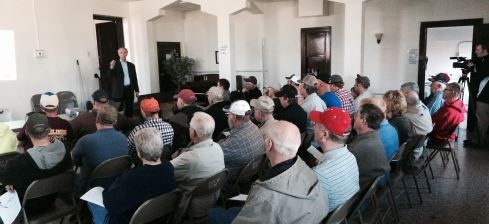 Attorneys Dave Domina and Brian Jorde continue their free informational meeting series to inform Nebraskans about the legal challenges, as well as the opportunities, they face regarding Syngenta claims and water policy.
Syngenta claims can be complex – not just "easy money" as some are purporting. While the strength of these bad corn claims is uncertain, it is incredibly important for Nebraska farmers and producers to be aware of their rights and what they should do.
If you are a corn grower, grain handler, or exporter, we encourage you to join us for one of our upcoming meetings! If you can't make it to one of these, keep an eye out for future meetings or email corn@dominalaw.com for more information.
Upcoming Information Meetings
TODAY –
Geneva
10:00AM at Geneva State Bank
896 G. Street
Central City
1:00PM in the Community Room
1515 17th Street (Next to City Hall)
David City
4:00PM at Hruska Library
399 North 5th Street
Friday, March 13 –
North Platte
4:00PM at North Platte Public Library
120 West 4th Street
Saturday, March 14 –
Cozad
7:00AM at Chipper Hall Auditorium
144 East 8th Street
Lexington
10:00AM at Kirk's Nebraskaland
3002 Plum Creek Parkway